Do you love Italian food? Do you enjoy country music? If you do, you can enjoy both in Nashville, Tennessee. Get the best of both worlds by visiting the US capital of country music and its renowned Italian restaurants.
Italians know how to enjoy a meal. No wonder Italian cuisine is so famous. If you love Italian food, Nashville has many Italian restaurants, old and new, for almost every occasion. Whether you are looking for a place to dine, organize a family gathering, or have a romantic date, the Italian restaurants in Nashville are the place to be. From everyone's favorite wood-fired Italian pizza to homemade pasta, seafood-studded linguini, and more Italian restaurants in Nashville have it all!
You don't have to travel to Italy to try some of the best Italian specialties. You can try tasty Italian dishes in the heart of the United States Music City- Nashville. The Italian food scene in Nashville is thriving thanks to the local traditional and trendy Italian restaurants. There is high competition between the already-established Italian restaurants in Nashville and the new ones just emerging on the cuisine scene. One thing is for sure, once you try Italian comfort food you are hooked for life. We are here to help you find popular Italian restaurants in Nashville where you can try the Italian specialties you are craving for. Open a bottle of your favorite white wine and read on to find popular Italian restaurants in Nashville with the best Italian specials that would go splendidly with the wine in your hand. Salute!
8 Popular Italian Restaurants in Nashville
There are plenty of Italian restaurants in Nashville to choose from. We have prepared a list of the popular ones where you can enjoy your favorite Italian meal. Usually, the popular restaurants are the ones that are both in style and well-liked. So, you can't go wrong by choosing one of the popular Italian restaurants in Nashville from our list. Feel like an Italian in Nashville and order the best Italian meal in one of the following restaurants:
1. Amerigo Italian Restaurant
Amerigo is a popular Italian restaurant in Nashville for three decades. Since its opening in 1991, Amerigo has won the hearts of Italian food lovers with the variety and quality of meals and celebrations. This Italian restaurant proudly stands on Nashville's West End Avenue carrying the title of one the best restaurants according to Tripadvisor.com.
Browse through this Italian restaurant' menu and decide what meal you will enjoy most from this wide selection:
If you like what you have read so far you can make reservations through OpenTable for 4 people or less, or directly at 615.320.1740 for 5 people or more, or contact the Sales Manager for group reservation policies. This Italian restaurant in Nashville also offers a possibility for private dining in the Napa room (up to 20 people), the Veneto Room (up to 32 people), and the Tuscany Room (up to 52 people). So, whether you decide to dine alone, or in a pair or you want to organize private dining you will have the opportunity to enjoy some of the best Italian dishes. Buon appetito!
2. Trattoria Il Mulino
Since its opening in 2015, Trattoria Il Mulino is one of the most popular Italian restaurants in Nashville. Trattoria Il Mulino is a part of the famous New York-based Il Mulino brand. This Italian restaurant offers a 5-star fine-dining experience to Nashville thanks to the chef and his collaboration with Il Mulino NY chef Michelle Mazza. Trattoria Il Mulino has a great location in Nashville, a lovely atmosphere, an indoor dining area, a covered and heated outdoor dining patio with a bar, and an exposition kitchen with a wood-fired pizza oven. The restaurant's menu includes different Italian meals and drinks for:
Lunch and dinner (rustic Italian salads, stone oven pizza with crisp thin crust and the freshest ingredients, pasta, entrée and curated accompaniments to the entrées, and side dishes);
The Wine menu (wines from Italy, France, and the US, aperitifs, digestifs, cordials, Amari, whiskey, bourbon, cognac, and more);
The Beer and cocktails menu (local craft beers including the Italian classics Peroni, hand-crafted cocktails with custom designs).
If you like what you see on the menus, you can make a reservation by signing in to OpenTable. Once you find a table you can try some of the authentic foods imported from Italy, house-made mozzarella cheese, or signature dishes like Porcini Ravioli. This is another popular Italian restaurant in Nashville offering you a private dining experience in one of the private or semi-private dining rooms like the:
Private gold room for up to 16 guests;
Wine cellar for up to 26 seating guests or a reception for up to 40 guests (1,600 bottles of wine, combined seating arrangement of tables and booths);
5th Avenue dining for up to 65 seating guests or a reception for up to 80 guests (perfect for a group of 20-65 for dinner, or a strolling reception for not more than 80 people);
Al Fresco dining and bar for up to 20 seating guests or a reception for up to 150 guests.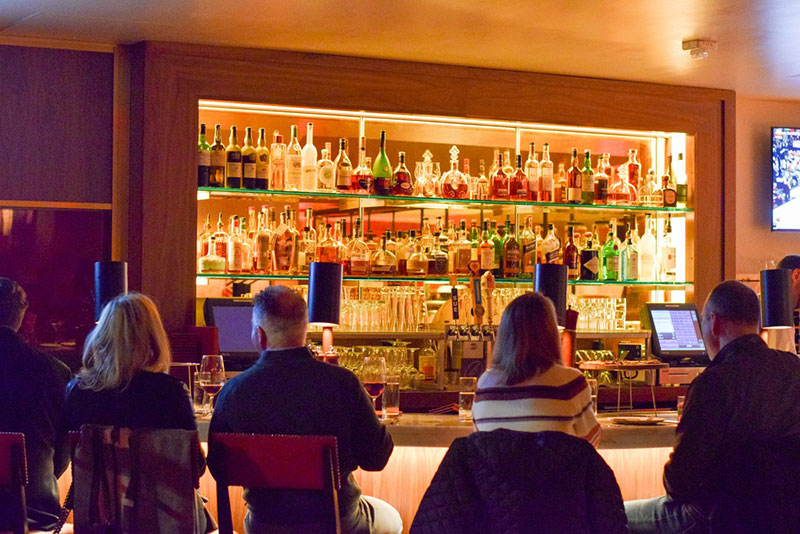 3. Maggiano's Little Italy
Maggiano's Little Italy in Nashville offers a wide selection of Italian traditional recipes and meals. This popular Italian restaurant in Nashville is a great place to wine and dine with friends, family, or your special someone. Before you choose your favorite Italian dish check out Maggiano's Little Italy menus:
The Lunch and dinner menus offer starters, salads, standards, sandwiches, lunch combinations, chef's featured soups, pasta, specialties, classics, seafood, signature cuts, Marco's meals for two, side dishes, and beverages;
Family style and dessert menu;
You can also enjoy Italian specials and a lovely Italian dinner in the comfort of your home by ordering online. Maggiano's Little Italy is a great place to host:
Parties and special celebrations for your family and friends (New Year's eves, banquets, anniversaries, birthdays, baby showers, class reunions, family celebrations, engagement parties, bridal showers, rehearsal dinners, weddings, receptions, and day-after brunches);
Unique corporate events (business or corporate meetings with group dining options, wine, and cocktail selections).
For these special occasions, there is a special chef-designed menu, decadent desserts, hand-crafted cocktails, and a wide collection of wine. Amaze your guests with an original Italian event menu. Make your reservation and start preparing for a one-in-a-lifetime experience in this lovely Italian restaurant in Nashville that always puts its guests first, and enjoy the genuine Italian atmosphere.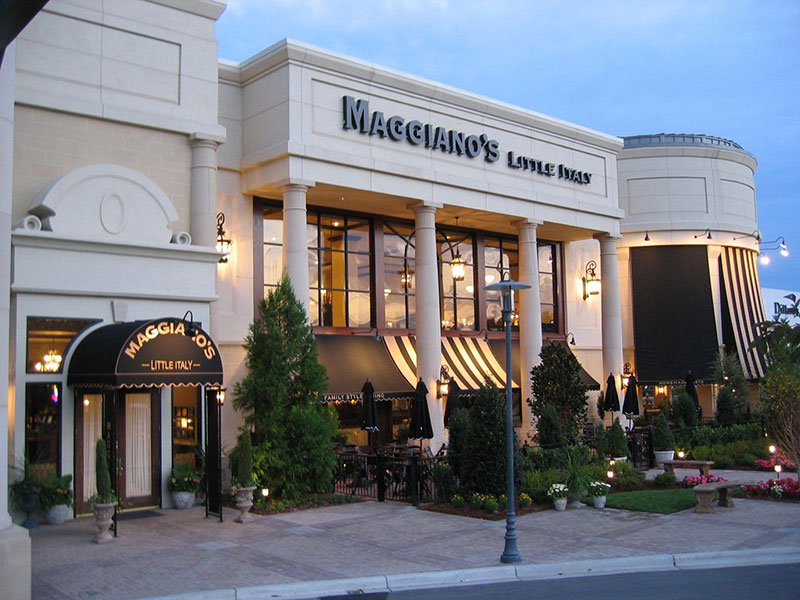 4. Valentino's Ristorante
Valentino's Ristorante is a popular Italian restaurant in Nashville with a perfect ambiance and attentive service. This Italian restaurant has won a variety of restaurant awards starting from the wine spectator award of excellence, through the four and five diamond awards to the Tennessee readers' choice awards for best Italian restaurants. Impressive right?
Valentino's welcomes and treats its guests with delicious and bold flavors, using only fresh ingredients, and fine wines. If you are the romantic type you will love Valentino's for its romantic, sophisticated, and warm atmosphere. This lovely Italian restaurant in Nashville stands above the competition due to its loyal clientele and classic Italian meals thus earning the title of Nashville restaurant tradition. Check out Valentino's menus to see why people are so fascinated by this rustic Italian restaurant:
All of Valentino's menus are in pdf format, so you can easily download them for further review and price comparison. If you wish to make a reservation in one of the popular Nashville Italian restaurants with excellent reputation then Valentino's Ristorante is the perfect place. For any additional questions or assistance, you can dial (615) 327-0148.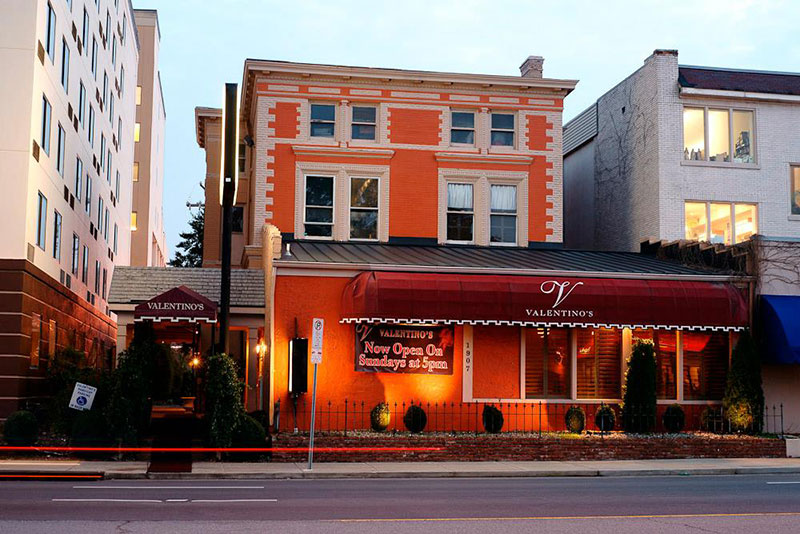 5. Luogo Restaurant
Luogo Restaurant is the number one Italian Restaurant in Nashville according to Yelp and Trip advisor. With its 5-star ratings and excellent reviews, it was inevitable to place Luogo on our list of popular Italian restaurants. The meaning of the restaurant's name is "the place", so literally when it comes to the best Italian cuisine, Luogo is the place to be!
The renowned owner of Luogo restaurant started his journey in New York and continued it in Nashville bringing his experience and upscale Italian iconic dishes to the music city.  This Italian restaurant is one of the most visited ones. People enjoy Luogo's authentic meals with a focus on coastal cuisine. At Luogo's you can try many Italian specialties like:
Chitarra with beef meatballs;
Seafood fra diavolo;
Frito misto and eggplant and zucchini pie;
For a more detailed view of Luogo's Italian dishes, you can download the restaurant's menu.
Luogo's chef Marco Rossi offers its guests the possibility to substitute regular pasta with gluten-free spaghetti. Also, upon request, you can order angel hair pasta. Luogo restaurant is great for private dining and it accommodates from 14 to 80 guests. If you are interested in organizing external events, you can choose the restaurant's catering services. For a private event reservation you can dial (615) 988-8200 and for online orders choose the option order online. If you want to experience the restaurant's bright and lively atmosphere and satisfy your palate with delicious Italian food, visit Luogo and see for yourself why this Italian restaurant in Nashville is so popular.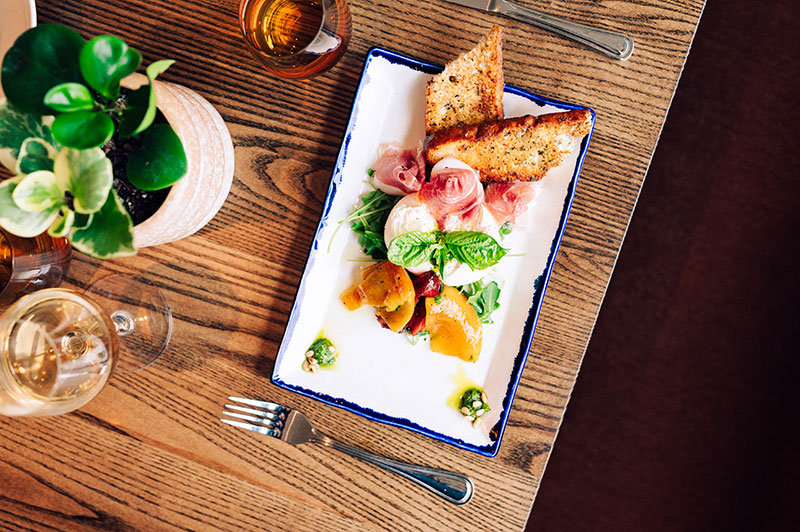 6. Moto
According to Eater Nashville, Moto is one of the fifteen incredible Italian restaurants in Nashville therefore we proudly present it on our list of popular Italian restaurants. With its award-winning wine list and a mix of Italian classics, Moto is a great choice for a romantic dinner for two or a special event that requires private room options. This Italian restaurant recommends reservations but also welcomes walk-ins. So, even if you haven't made prior plans you can enjoy Moto's menu comprised of:
Dinner menu with antipasti (oysters, wagyu carpaccio, crispy calamari, and more), primi, pesce e carne, pizza, and side dishes;
Wine and spirits menu with its rich enoteca, wines (red and white from northern, central, and southern Italy and the islands as well as world alternatives) by glass or bottle, and bubbles/frizzanté;
Dolce menu with different types of coffee, digestives, dessert wine, fortified-port, sherry, desserts, and cakes.
Moto's seductive atmosphere is awaiting your reservation. Whether you want to reserve a dinner for two, or you want to organize a special event you will have the opportunity to enjoy a first-hand experience in one of the best Italian restaurants in Nashville. Make sure to call 615-736-5305 if you plan a party for 11 guests or more. Because Moto offers 20 unique spaces for private event dining it is wise to request a space beforehand and download the event guide for further details. Organize a private party for remembrance in the company of your family friends, loved ones, and the best Italian wines and specialties.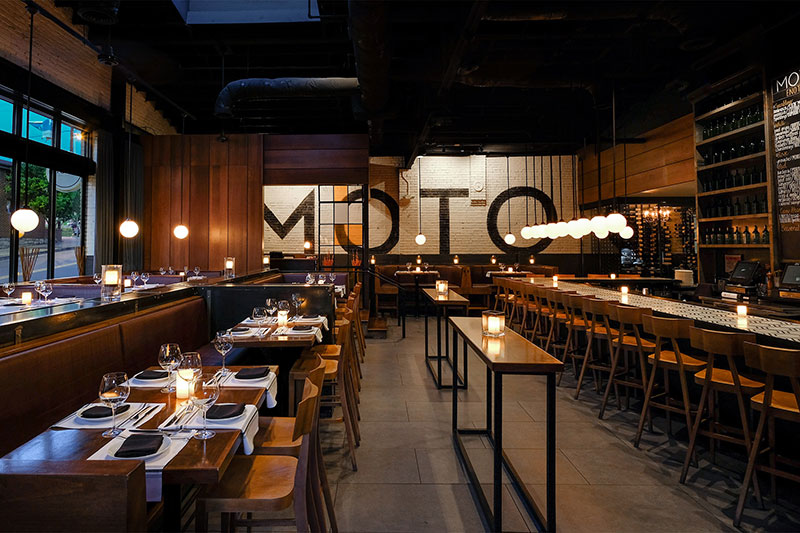 7. City House
City House is another popular Italian restaurant in Nashville where the name says it all! Physically transformed from an actual house City House welcomes you in its warm, homey atmosphere and a fascinating menu prepared by the famous award-winning chef Tandy Wilson. So you can't go wrong with whatever you choose from the menu. You can choose one or more of the delicious Italian dishes from the Monday to Saturday menu or Sunday supper menu. If you have additional requirements:
Contact City House and send them a direct message through their website;
For a gathering of 12 people or less you can make a regular reservation;
For groups of 10 guests or more, you will need to order family-style serving (group selection of 3 starters, 1 or 2 pizza types, and 3 mains) due to the size and nature of the restaurant.
City House accommodates guests for a private dining event both in private rooms and the whole restaurant. If you plan a private event in this Italian restaurant the chef and his assistants will prepare a unique menu corresponding to that particular event. You can use City House's private dining option to organize different gatherings like parties and presentations for up to 84 people. Cooperate with the kitchen staff and give your family, friends, or colleagues a chance to try an Italian dish that elevates any occasion. To discuss the details and book the date go to private event information and start preparing.
8. Caffé Nonna
Caffé Nonna's rustic Italian recipes date back to the 1920s when chef Dan Maggipinto's grandmother "Nona" developed her family recipes. We should thank her family for bringing these delicious Italian meals from the Abruzzi region of Italy into the United States. Once you visit Caffé Nonna you will have the opportunity to witness rural Italian cooking techniques come to life. "Nonna" used to say that "To eat well is to live well!" so her nephew did his best to put her words into practice and open this popular Italian restaurant in Nashville. The restaurant's menu  offers classic Italian recipes:
Appetizers (Arancini, Baked cheese sticks, Fried calamari, and Seasonal soup);
Mussels (Roma and Tango);
Bruschetta (Seafood and Tuscan);
Salads (Caesar, Caprese, Hearts of palm, Rocket);
Nonna's classics (Lamb shank Toscana, Lasagna Bolognese, and Lasagna Nonna with Nonna's famous marinara, Salmon Rustica and Seafood Angelina);
Mixed and matched pasta (kid's pasta).
Caffé Nonna as a 7-time winner of Nashville's Best Italian Restaurant also offers large party reservations for 8 people or more with designed party menus served family style. To learn more about the party-designed menus and reserve your party send an email to [email protected]. Many guests at Caffé Nonna are fascinated by Nonna's sauces, if you are too you can order them at  Nonna's gourmet foods and try them at home.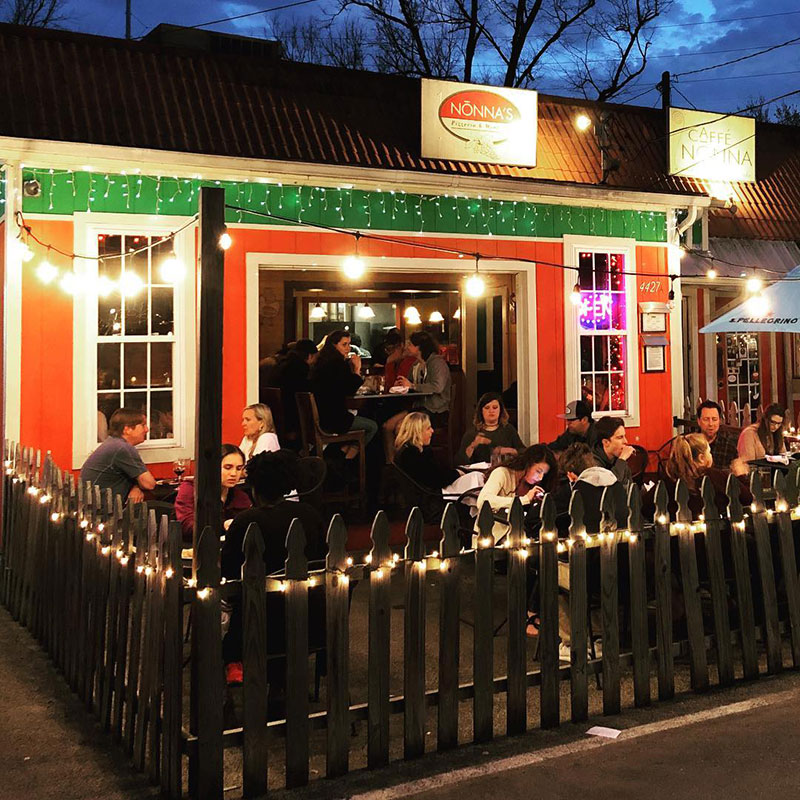 Conclusion
We created a list of popular Italian Restaurants in Nashville to satisfy your gourmet palate with some of the best Italian dishes in Nashville and make your stay in the music city even more enjoyable. As you can see, these Italian restaurants offer diverse menus for everyone's taste and the possibility of romantic dinners, large parties, and private dining events.
Think about Nonna's saying "To eat well is to live well!" and start living well by experiencing fine dining at a popular Italian restaurant in Nashville. Buon appetite and Salute!