As a vegan, going out to eat can be extremely challenging in Nashville, Tennessee. Many restaurants are known for their steaks, ribs, chops, and of course, the signature fried chicken and meals made out of fish. Not many restaurants host an additional menu that is vegan-friendly, and even if they did, it feels uncomfortable to eat vegan-friendly food while others are feasting on meat and other animal products which is exactly what veganism stands for.
While some people learned to be okay with this, or they became vegan for health or some other reason than animal cruelty, many other vegans who either live in Nashville or visit it every once in a while, choose to prepare their meals on their own, without enjoying any upscale eating experience that Nashville offers.
It's no secret that Nashville is home to country music, which is why many people visit it. More importantly, it set the foundations for R&B and many other genres. It's safe to say it's a city of music, and many people enjoy visiting a restaurant and enjoying some good live music while also exploring new flavors.
Meals on the menus change with seasons, which is amazing for vegetarians and vegans because that way they can try out different meals and explore types of food they wouldn't normally see. Despite being the city of fried chicken and chops, Nashville has a rich restaurant ambiance when it comes to vegan-friendly options.
Whether you're a vegan for a long time or want to eat a bit cleaner and cultivate vegan culture and nutrition, we're with you.
We explored the rich restaurant scene in Nashville and compiled a compelling list of the best vegan restaurants in Nashville. Explore everything, from cocktails and full-course meals to flavor-rich desserts that will leave you craving for more.
Most Popular Vegan Restaurants in Nashville
Even if you're visiting with your "omnivore" friends, they are going to love exploring veggie meals prepared with a lot of care and love. In Nashville, you can enjoy exploring different vegan options without breaking the bank.
Before we start reviewing each restaurant, it's important to highlight the difference between vegetarian and vegan food. Vegan refers to meals that don't contain meat or any other kind of animal products like milk, dairy, and even honey. On the other hand, vegetarian people don't eat any kind of meat including seafood. In some cases, they'll also avoid other animal byproducts like vegan.
Although it was impossible to compile the list with purely vegan restaurants, we also added some vegetarian-friendly restaurants in case you're on a margin between veganism and a vegetarian lifestyle, or you're visiting with a friend who eats animal byproducts.
Copper Branch Vegan & Vegetarian Restaurant
The first restaurant on our list is the Copper Branch Vegan & Vegetarian restaurant. It's a predominantly vegan restaurant with most of its menu being vegan-friendly. However, there are also some vegetarian options on the menu that are worth trying out.
Available in downtown Nashville, it's easy to find and relatively easy to make a reservation. The restaurant staff is friendly, and welcoming and will make you feel at home. Perhaps, this is not a fine-dining restaurant, but it's equipped with everything that one fine-dining restaurant should have – an absolutely beautiful décor, comfortable seats with a good view of the restaurants, kind and helpful staff, and amazing music.
Not to mention the tastiest meals you've seen. It offers everything that you can think of – as you can visit for a sweet breakfast or a brunch to a romantic dinner date with your love interest. It offers a creative twist in its meal offers like an interesting combination of sauces and spices that will tickle your taste buds.
There are various meals like vegan tacos, spicy black bean burgers, and the general copper bowl. Still, one of their signature offers is the Nashville-based java coffee, while quite expensive, is worth every penny.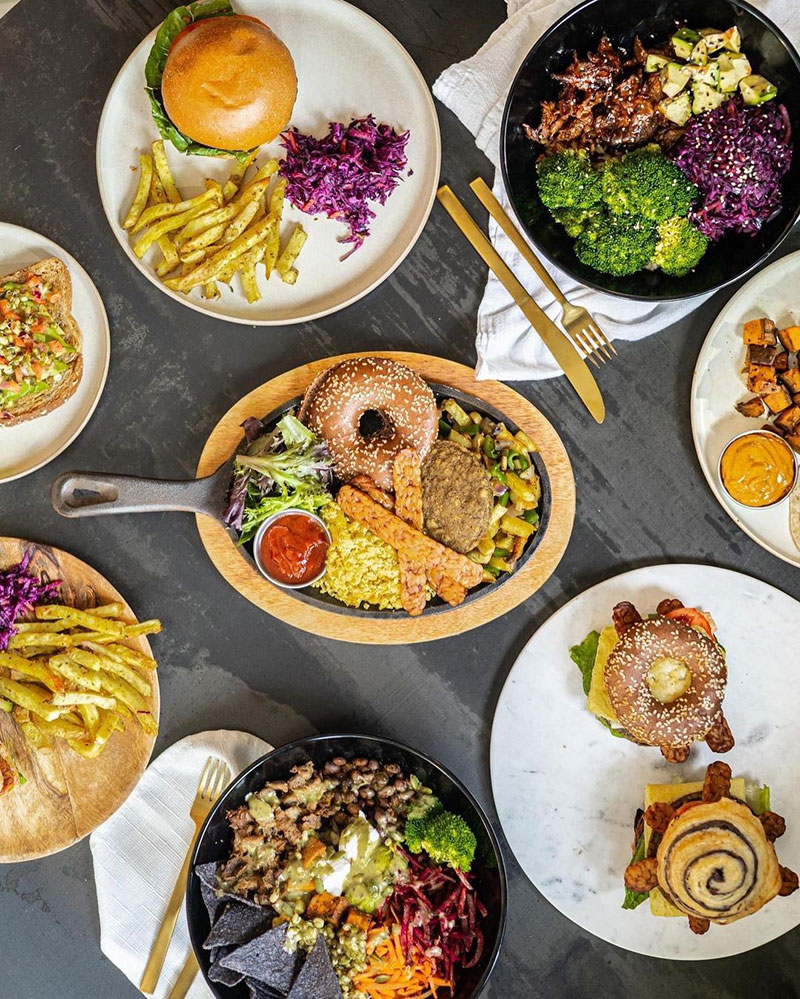 Graze Nashville
Graze Nashville is another vegan-friendly restaurant located at the heart of this city. It's a laid-back restaurant option with a relaxing atmosphere, an approachable price range, and delicious meals for breakfast, lunch, and dinner. A combination of all these things will make you come back again and again.
It's important for every vegan to feel heard and understood and this is exactly what this restaurant offers, a safe sanctuary for those who love delicious food but still want to be environmentally aware and share their love for cute animals. The staff of this restaurant is sure to know that and will provide you with the best offer you can think of.
The energy is marvelous, the music is really good, and there are many dedicated sitting areas as well as a cool courtyard if you want to enjoy the garden. The staff will hear you out and give you recommendations about their signature meals and other offers that may sound attractive to you.
There are many meals worth exploring and eating. Some of them include Green Chile Burrito Bowl, Buffalo Cauliflower Wings, Emmoladas, and much more. You also have to try desserts like the signature vegan chocolate cake and vegan gluten-free pancakes. Cocktails and smoothies are also first-class. They'll make you come back for more!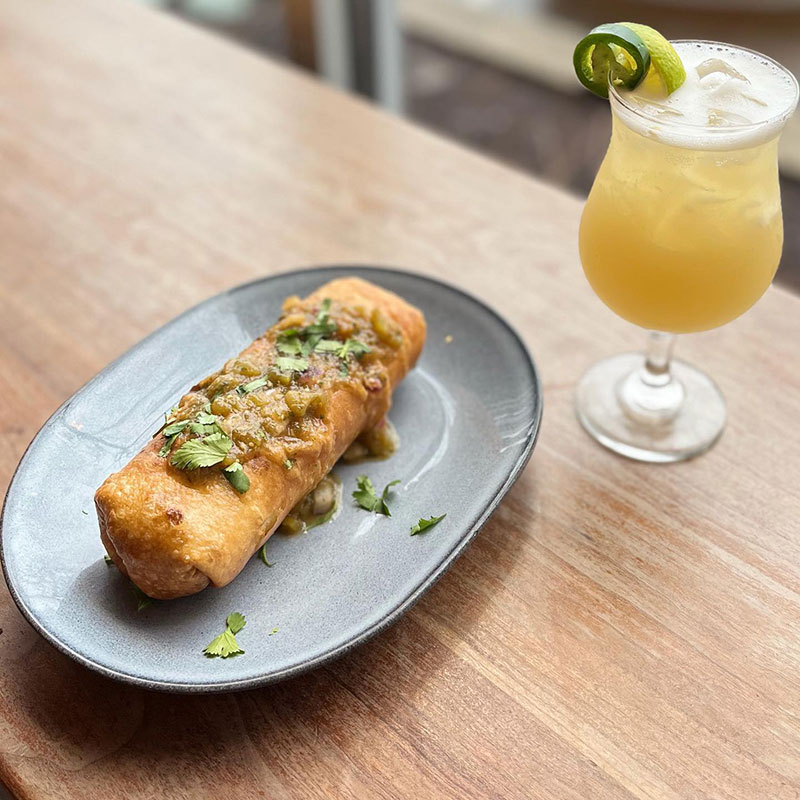 The Southern V
Are you looking for the authentic and signature meals of the south but ever since you became a vegan, you couldn't enjoy them to the max as you once did? Don't worry, there's a way to enjoy everything like that again, thanks to the authentic southern cuisine and atmosphere offered by the Southern V.
Making southern meals is not that hard when all you have are vegan materials, after all, many southern meals use vegetables for foundation and this restaurant takes advantage of that to make super-tasting meals. They have approachable prices and staff that will make you want to return as soon as possible.
It has a laid-back atmosphere, and it not being at the heart of the city will allow you to relax and forget about the stressful day behind you. They offer breakfast, lunch, and dinner options and each of the meals is unique in its way. Additionally, the staff is extremely helpful, they'll suggest meals of the day and will educate you on possible allergies and intolerance.
The music and the overall ambiance are great, while the décor also looks southern style. The portions are large which means you won't have to worry about being hungry in a few hours.
If you stop by the Southern V you have to try the burgers and BBQ jackfruit nachos. There are also many desserts in the selection and your visit won't be complete unless you get a dessert too.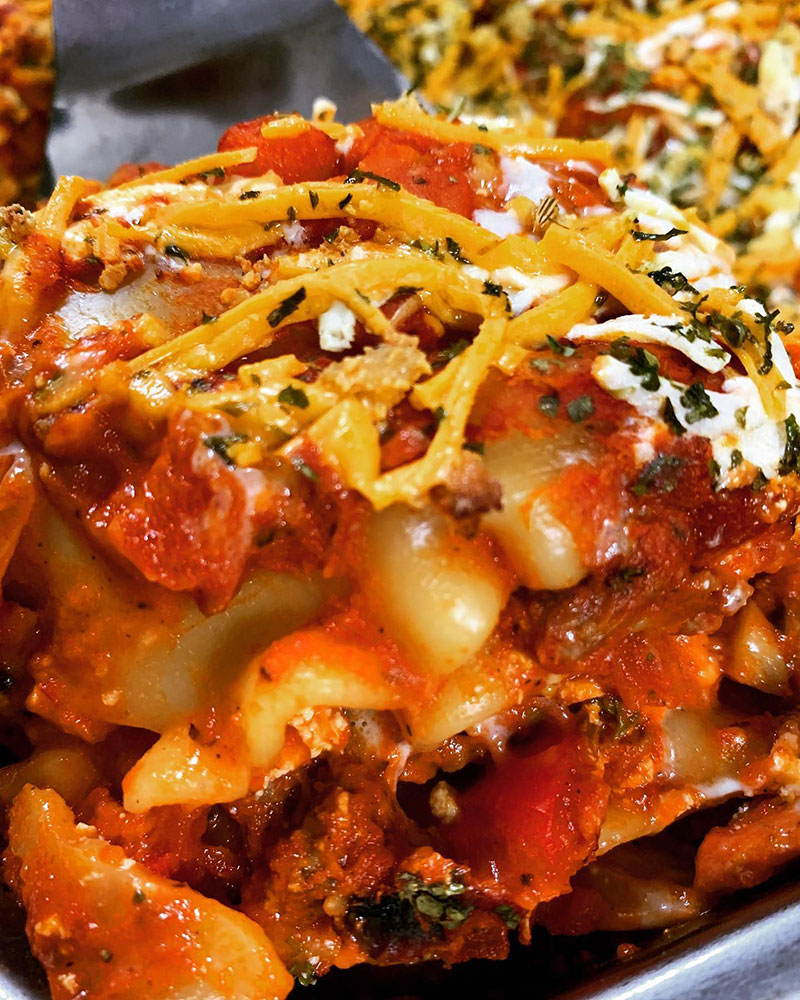 Vegelicious, LLC
One of the two locations in the USA by Vegelicious is in Nashville, and Nashville has never had such a good selection of vegan-friendly meals thanks to this signature restaurant that offers meals made with heart and soul to make every vegan feel like they belong and deserve to eat delicious and flavorful meals without animal byproducts in them.
Needless to say, Vegelicious offers a fancy menu along with a great location. It has a good distribution of tables where you can sit and watch over the fancy view and décor. The seats are comfortable, the service is agile and fast and you can enjoy laid-back music and relax after a stressful day at work or school.
As mentioned above, Vegelicious has great service, the staff will recommend the best meals that are suitable for you and your preferences. You can enjoy a selection of smoothies, vegan shakes, and cocktails if you're visiting for a dinner date.
Although there are a lot of desserts worth exploring in this restaurant, before satisfying your sweet tooth, you have to try burgers, vegan fried chicken, vegan mac and cheese, and much more. As mentioned above, there is a great selection of vegan-friendly desserts at your disposal.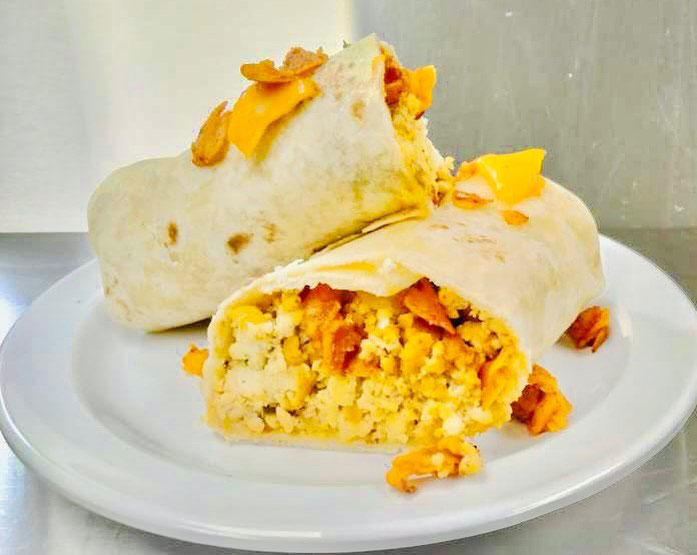 Sunflower Cafe
Sunflower Café has predominantly vegan-friendly meals for breakfast, lunch, and dinner, but there are also some vegetarian meals on the menu that you should be aware of. Nevertheless, this is a first-class experience for vegans as well as other people who want to explore this type of cuisine with their friends.
Although it classifies as an American food restaurant, it's safe to say that this is an international restaurant featuring various signature meals from other countries, turned into a vegan specialty and a masterpiece.
It's one of the restaurants in Nashville that have a super-fast service. The waiters will listen to you, be aware of allergies and intolerance towards certain foods, and will offer you some alternatives that may be suitable for you. Carefully picked and combined selection of vegetables, spices, and sauces will awaken a gourmet freak in you and you'll return for more.
Some of the specialties include Thai Salad, burritos, vegan and vegetarian burgers, rice bowls, and much more. While there, don't forget to try some desserts out, they'll satisfy your sweet tooth, and make you come back for more. There are also many breakfast and brunch sweet options.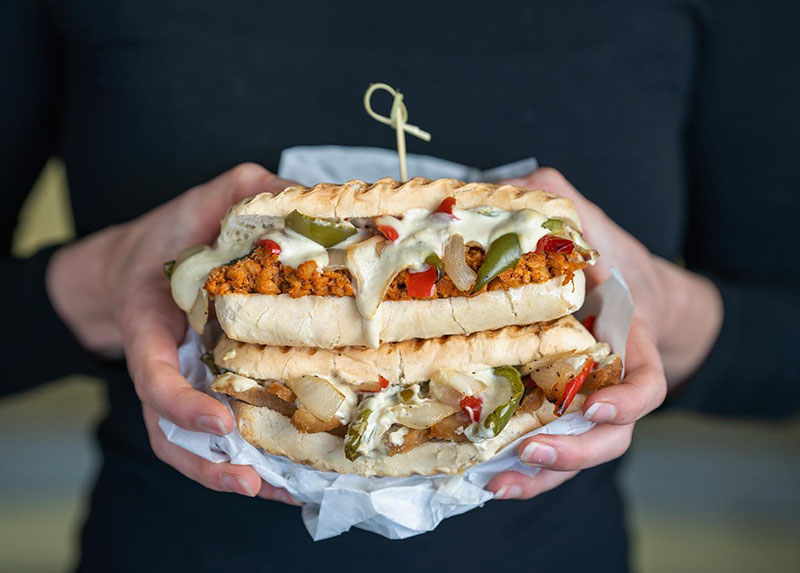 The Wild Cow
The Wild cow is a perfect name for a restaurant that promotes southern food, yet then again that food is vegan and equally delicious for vegans as it is for omnivores. There are many meals and other options to explore at this place, so don't shy away from visiting and learning about the new way food can be consumed.
Even though it's not at the heart of Nashville, the meals are large along with a beautiful atmosphere that is constantly lively and radiates positive energy. This is a great place to visit after work to enjoy, and aside from enjoying amazing food, you can also try out some cocktails and other experimental drinks.
All the meals here have a creative twist, a perfect combination of flavors and spices that will tickle your taste buds. No one can tell you that better than the restaurant staff is warm, kind, and quite helpful in choosing a meal that will best suit your taste preference.
The staff is also quite fast, so you'll get your meal ready at your table in no time. Some of the options worth exploring include Italian Antipasti Hoagie, spinach and artichoke dip with pita, portobello tacos, and buffalo tempeh wrap, and don't forget the signature desserts like the special vegan cinnamon roll, gluten-free Funfetti cake, and cherry pie.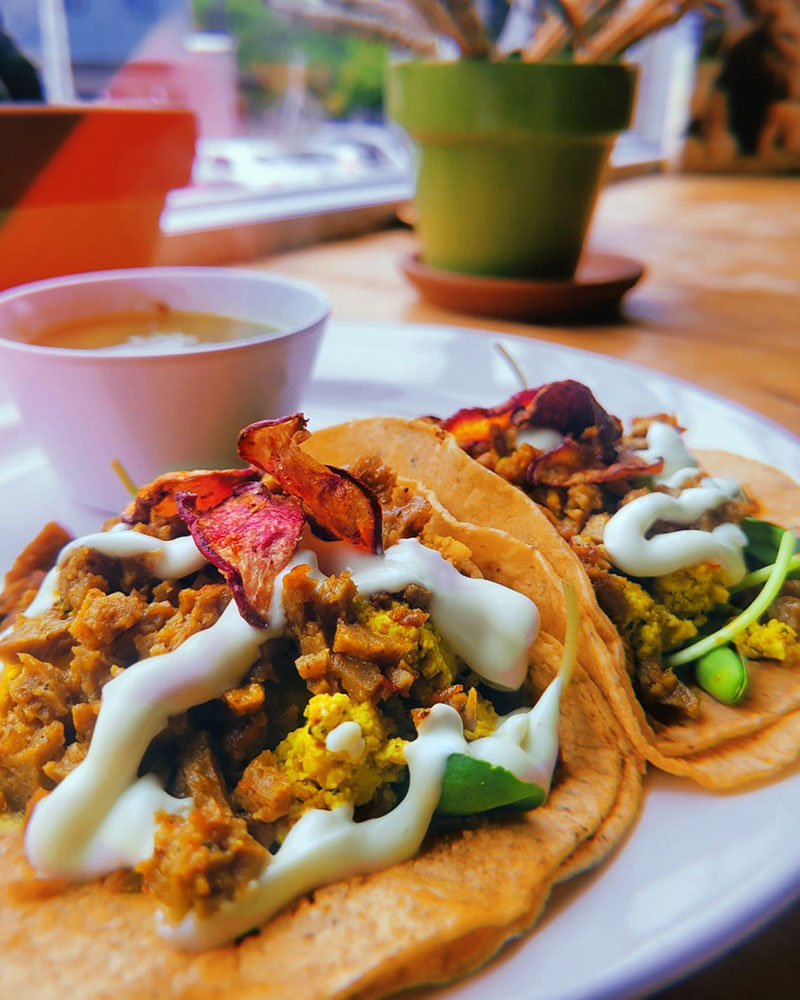 Guerilla Bizkits
Guerilla Bizkits is a hidden vegan gem of Nashville, and if you're on a tourist visit to Nashville, then you have to visit Guerilla Bizkits and experience some of their crazy lively atmosphere and the overall dining experience this vegan restaurant offers.
Although it's smaller compared to other restaurants we reviewed, it was made with a lot of attention to detail in mind. Creative and interesting artwork and décor in particular will help you relax with perfectly comfortable and distributed seats so you won't have to listen to other people chat.
Guerilla Bizkits has the fastest, most welcoming, and kindest waiters that will hear out your food preferences and help you choose meals that are perfect for you. The menu is quite big so you'll struggle to pick what you want. Fear not, the portions are quite large and there's no chance you're visiting this place hungry. Prices are also great which is why this place is a great return point for many people.
If you are worried about what you might try out there we recommend biscuits that you can either order there or for takeaway, as well as cheddar garlic biscuits, waffles, and much more.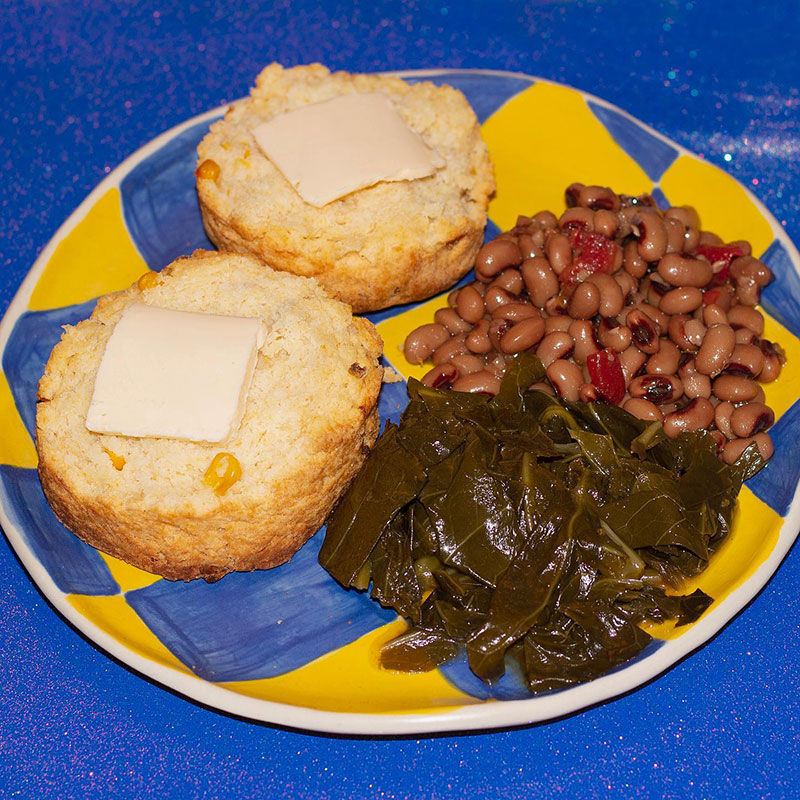 Butcher & Bee
The name may seem misleading, but Butcher & Bee is everything a vegan gourmet would dream about and enjoy about vegan specialties. Located on the Main Street of Nashville, there's no chance you'll miss it if your vegan soul gets hungry enough. They have another location in Charleston, but if you have a chance, you have to visit the location in Nashville.
There are a lot of things to discuss in this place. The first is the absolutely lovely mix of industrial and rustic ambiance and atmosphere. There are many seats, but even though that seems promising, the place is often crowded so either come earlier or make a reservation for a table.
The staff is lovely, fast, and welcoming. Even if you're coming with a non-vegan friend, they will offer some interesting recipe combinations that won't have them even notice that there is no meat inside. The service is fast so you'll get your meal in just a few minutes, while live music and atmosphere will help relax you.
All meals have flawless décor and a great combination of spices, sauces, and veggies that will tickle your taste buds. While there, try some grilled beans, avocado crispy rice, avocado crunch, farmhouse hash, and much more. There are also plenty of desserts for you to try out.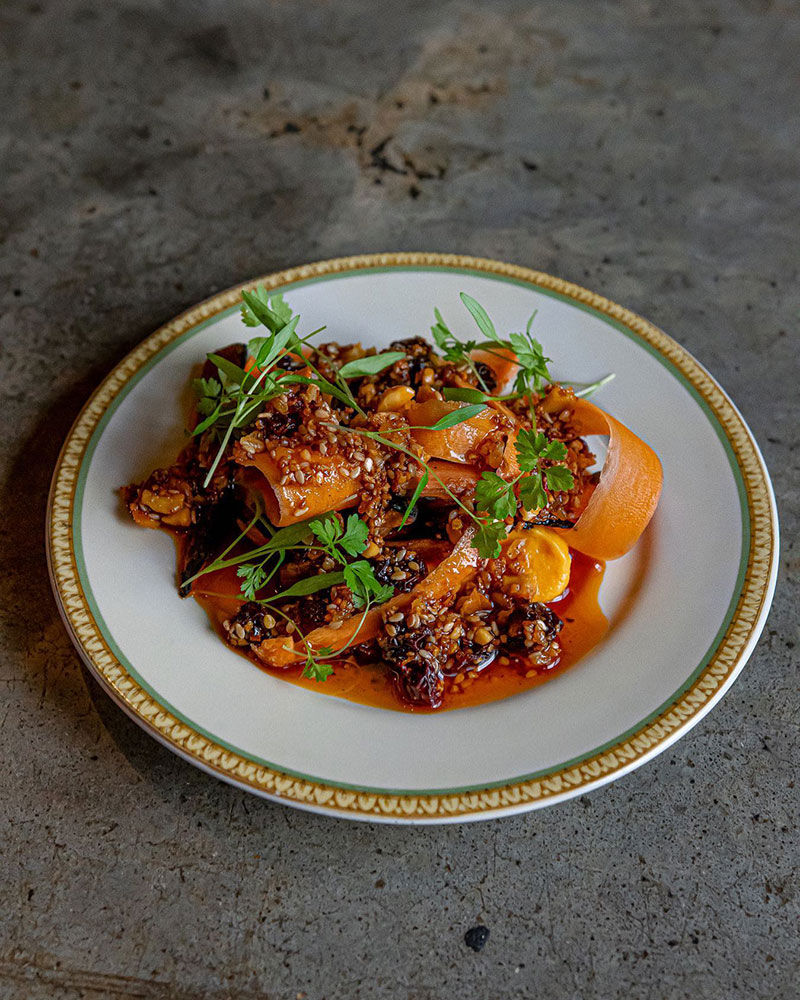 E+ROSE Wellness Bodega
If you're a fitness enthusiast who wants to eat clean and healthy, as well as vegan E+ROSE Wellness seems like a good place to visit when you don't know what you'll cook or you want to celebrate something without going out of routine. The restaurant is beautiful and professional.
There are several such restaurants across the USA, but this one radiates something energetic and powerful. All the guests are greeted with top-end professionalism and courtliness, the staff is warm, welcoming, and knowledgeable about the recipes that they serve.
One thing that is extremely lovely about this place is the color palette of the entire ambiance, the music, the way you're greeted and treated, and the amazing colors of the meals and drinks you take. They also have standalone products like smoothies and shakes, as well as salads that are for takeaway.
The colorful palette of food will keep everyone attracted, even the people who are not fans of clean eating and dieting. Enjoy different salad meals with super-juicy flavors and savory sauces. They have desserts that are made out of oats, as well as signature coffee, served every Saturday.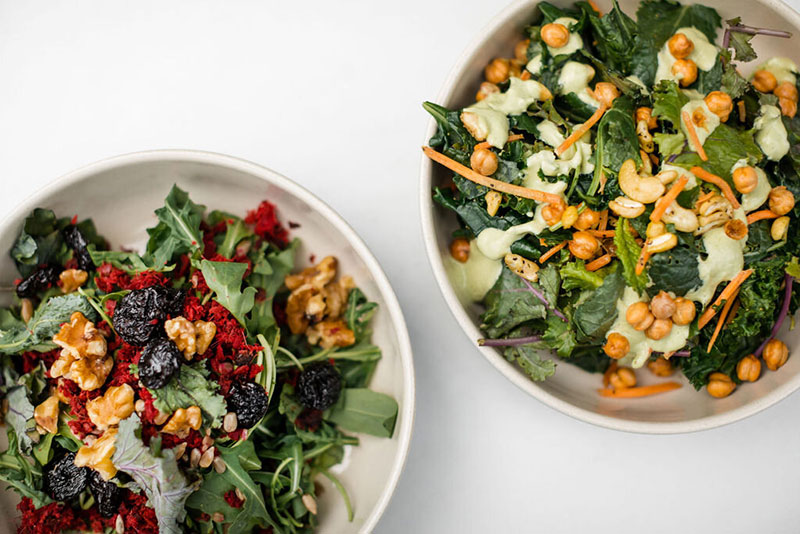 Things to Consider When Visiting Vegan Restaurants in Nashville
There are a few things to consider when visiting vegan restaurants, especially in Nashville. Read down below to learn which ones are they.
Check the Menu
Many restaurants have their official websites where they host a menu. The menu can also be found on the Google Maps page of the restaurant. It's always a good idea to check the menu beforehand to confirm that the restaurant is 100% vegan and that you won't get your meal mixed up with a vegetarian option or something else.
Even if you're not a picky eater, it's always good to check the menu beforehand, as some meals could be packed with allergens that you may not be allowed to eat. It's also good to check if there's a customizable meal that you could use to create a meal that you want. This is often the case with salad bowls.
Check the Reviews
When researching and reviewing restaurants in Nashville, one of the deciding factors were the reviews people left on Google, Yelp, Trip Advisor, and other websites where you can review the places you visit.
It's always a good idea to see what other customers had to say about the place. Usually, they'll comment on the ambiance, treatment, service, and of course the taste of food. They often upload photos that can indicate whether some meal is good or not.
Organic Food
Nashville is known for farms, and a lot of greenery and fields, which also gives a chance that there'll be locally-sourced, organic ingredients that many vegan restaurants use. Remember, a vegan diet is not only about not eating animal-sourced products, it's also about healthy and clean eating. Knowing your food is locally sourced and fresh is a plus when visiting a 100% vegan restaurant.
Is Food Gluten-Free?
Many people who switch to vegan also prefer eating gluten-free food, to avoid gluten intolerance or celiac disease. In Nashville, there are plenty of vegan restaurants that also have a gluten-free menu or at least a few gluten-free options. That's why it's important to check whether the vegan restaurant you want to visit has gluten-free options.
Ambiance
Going to a good vegan restaurant is pointless if the atmosphere is low-level. Whenever they go to a restaurant, they want to experience the dining in its fullest shape, and if the décor of the restaurant is poor, if the staff is not friendly and helpful, if there's no music or live performance, it may not be a good option for you.
While some restaurants are laid-back and casual, some are more upscale and feel like fine dining. It's up to your preference what you seek in a restaurant experience. Both options are good, but it depends on what you're looking for.
Prices
Most vegan restaurants in Nashville have approachable prices. Some are more affordable than others, but the prices are more than reasonable. Depending on whether you're looking for a casual restaurant or a fancy upscale experience the prices may change accordingly. Make sure to check the price range and menu to be sure you can afford the experience you're looking for.